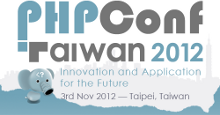 Our very own LiveDocx evangelist, Jonathan Maron, recently announced that his talk about LiveDocx was accepted by the organizers of PHPConf Taiwan 2012 in Taipei, Taiwan on November 03, 2012.
He will be hosting a thirty minute session about LiveDocx and PHP. The title and synopsis of his talk are as follows:
Template-Based DOCX, DOC & PDF Generation with Zend Framework 2

Using current PDF generation libraries in PHP, it is time consuming to get the formatting of a document exactly right. You need to choose between either the HTML-to-PDF approach, or the programmatic approach, in which you define the x and y co-ordinates of each and every element on a page.

In this session, I would like to present an alternative approach to generating not only PDF files with PHP but, amongst others, also DOCX and DOC, and even TIFF and BMP. It utilizes templates, created in a word processing package, for example Microsoft Word, and Zend Framework 2.

The approach supports PHP on Linux, Windows and Mac OS.
The talk is scheduled to take place at 10:10 at the Academia Sinica, which is hosting the one day event this year.
Jonathan is very happy to demonstrate the latest features of LiveDocx 2.1 and to offer his assistance getting started with LiveDocx. Just ask him. He will be at the Speakers Dinner and all other social (networking) events before, during and after the main conference.