The sneak peek of selected version 17.0 features continues. Today, I am proud to unveil the new digital signature feature in Adobe PDF and PDF/A documents.
TX Text Control 17.0 will support digital signatures in Adobe PDF documents. The signatures can be created with PFX, DER Cer or Base64 CER certificate files. Additionally, certificates can be loaded from raw data or selected from the local certificate store.
The SaveSettings class has been extended with a DigitalSignature property that can be used to set the signature. To create a new signature, a valid System.Security.Cryptography.X509Certificate2 and an optional time server URL must be given. Thus makes it very easy to create securely signed PDF documents.
The following screencast shows a typical dialog to prepare a digital signature. This dialog will be available as a sample with full source code.
When opening such documents in Adobe Acrobat, a blue bar indicates that the document is signed with a valid signature: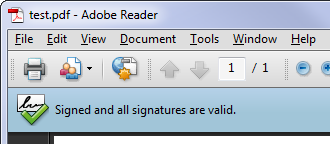 Additionally, all certificate details can be viewed in a separate panel: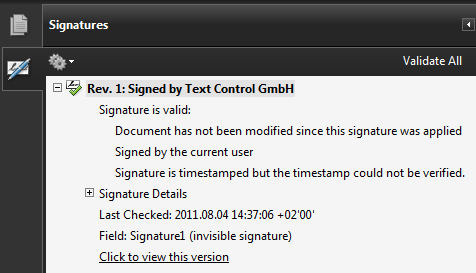 Just another great feature of the next version 17.0. Renew your subscriptions now to get version 17.0 as soon as it is released. We look forward to your feedback.