Time goes by so fast: Only three weeks ago, we celebrated the launch of Visual Studio 2010. Today, I am announcing our participation at Microsoft Tech·Ed North America 2010 in New Orleans, LA (June, 7-10).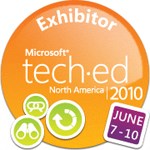 Stop by our booth #2444 to see the latest version of TX Text Control. If you plan to upgrade your .NET projects to WPF (Windows Presentation Foundation), don't forget to ask to get a sneak peak of our new WPF version that is due out this summer.
Again, we will hand out our TX Text Control baseball hats. Don't miss the opportunity to win an XBOX 360 Elite or a full subscription license of TX Text Control .NET for Windows Forms. If you plan to attend this conference, you can pre-register for the raffle by sending us an e-mail.
We look forward to meeting you in person to talk about TX Text Control and the roadmap for version 16.0. See you in New Orleans!