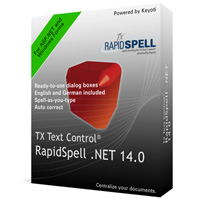 Today, we released the first service pack for TX Text Control RapidSpell .NET for Windows Forms 14.0.
Please take a look at the updated known issues list at:
You can download the service pack at:
Please uninstall the previous version and install this new setup.
As ever, our support team is waiting to answer your questions. Full contact details at:
Customers who are using the trial version should download and install the latest trial version.