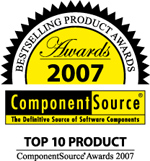 ComponentSource, the largest reseller for software components has just announced the winners of the ComponentSource® Awards 2007. This award is divided into two separate sections:
We are proud to announce that TX Text Control is a Top 10 product out of more than 1300 products that are sold at ComponentSource. We finished with place 10 in the product ranking of 2007.
In the bestselling publisher ranking, we ended up with position 12 and won the Top 25 Publisher Award.
These positions reflect our efforts to publish a high quality product with very professional support services. We are proud to receive this award and we strive to continually improve.