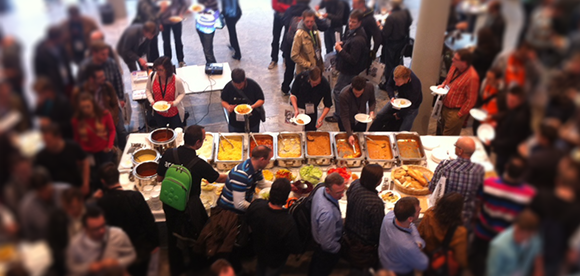 The conference registration opened last month at 12:00 noon. At 12:07 PM, the conference was sold out. Within 7 minutes, more than 400 tickets have been sold of this very successful user group conference in Cologne.
Since 2011, we are sponsoring this event in Germany that always draws top speakers, sponsors and highly enthusiastic attendees. We will be exhibiting with a team to show the recently released version X12.
Our TX Text Control MVP André Krämer is giving a talk about the centralized document creation with the Open XML SDK and its limitations.
Another interesting session from Christian Giesswein shows the new WPF features of .NET 4.6 including performance, DirectX interoperability and high density display. This shows a trend we can see in many projects, requests and sales: WPF lives!
The new X12 version of TX Text Control .NET for WPF implements a new WPF presentation engine which enables a better integration in the WPF Framework, so that other framework elements can overlap a TextControl object. This new WPF rendering engine allows all types of transformations, 'Adorners' and other typical WPF features such as effects like 'DropShadow' and 'Blur' effects. New touch and stylus events help developers to create multi-touch interfaces for Windows applications.
TX Text Control .NET for WPF X12 is shipped with ready-to-use, completely customizable ribbon tabs. They provide ribbon groups and buttons for the typical tasks such as formatting text or inserting objects such as images, headers and footers or barcodes.
Stop by our booth at .NET Cologne 2015 and try TX Text Control X12 on your own.
See you in Cologne!