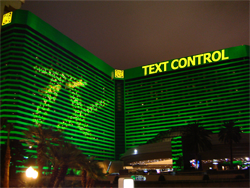 Meet Text Control at the hottest industry event this spring: DevConnections. Celebrate the Visual Studio 11 Beta release and the SQL Server 2012 launch. Listen to speakers such as Scott Guthrie, Jason Zander and Scott Hanselman.
As always, we are staffing a booth in the expo area to showcase the latest developments and to unveil the roadmap for 2012 and version 18.0.
If you are going to DevConnections, stop by booth #319 and learn more about our new reporting concept:
Reporting Redefined!
And make sure to get your raffle ticket. As every year, we are giving away an XBOX 360 with Kinect.
See you in Vegas!