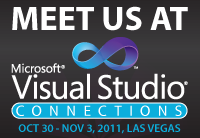 Preparations are done, booth and swag are shipped to Las Vegas and our conference team is following soon.
We will unveil some great news at DevConnections this year. Not only that we are going to present TX Text Control 17.0 that is ready to release next month, but also a
brand new TX Text Control product
that we have been keeping under wraps.
If you are attending the show, stop by our booth #609 and learn more about these new releases. Check your attendee bag and bring the stub from the TX Text Control door hanger for the XBOX 360 raffle.
This time, not everything that happens in Vegas stays in Vegas! If you are not attending this conference, follow us on Twitter (@txtextcontrol) to get informed about our new product launch. We will announce it during the first conference day.
See you in Vegas (or on Twitter)!