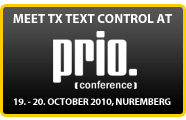 Again a quick heads up to all European users: Next week, the TX Text Control team is exhibiting in Nuremberg at the Prio Conference 2010.
We installed the latest beta builds of our upcoming TX Text Control .NET for WPF on the demo PCs to show you the great XAML data binding.
If you are attending the Prio Conference, pop over to the booth and say hello. We would love to see you and have a chat. Make sure that you get your raffle ticket to enter our XBOX 360 ELITE 250GB raffle.