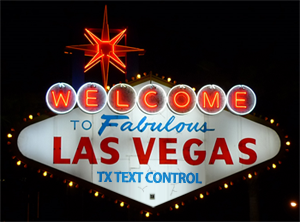 Next month, November 1-4, the DevConnections conference is back in Las Vegas, Nevada. For the 2nd time this year, the TX Text Control team is traveling to Las Vegas and we look forward talking to you, our users.
This time, our final release build of TX Text Control .NET for WPF is going to be in our baggage and we are very happy to show you everything in detail.
We are very proud of the smooth integration with the Microsoft Ribbon controls using Binding and DependencyProperties. It is so easy to connect TX Text Control to other WPF controls using XAML. You don't need any C# or VB.NET code to connect TX Text Control to a customized button or ribbon bar. TX Text Control .NET for WPF will be shipped with a sample that shows how to connect with the Microsoft Ribbon, and we will try to provide samples for the other major third-party vendors.
If you are at DevConnections, make sure to stop by the TX Text Control booth (#514) to check out our demos, pick up a baseball cap and get a raffle ticket to win an XBOX 360 Elite.