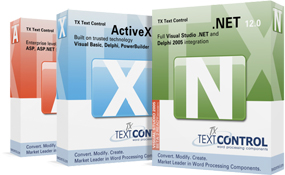 I am delighted to announce that we have just released the following TX Text Control products:
TX Text Control .NET for Windows Forms 12.0
TX Text Control ActiveX 12.0
TX Text Control ActiveX Server 12.0
New and Updated Features
Text Frames
Freely placeable and programmable text frames.
Anchored Images
Images and objects can now be anchored to a paragraph or page.
Object Attribute Dialog Box
Extensive dialog box for all image, text frame and object attributes.
Image Improvements
Toggle between multiple image position modes.
Table Formatting Page breaks in table cells, keep rows together and more.
What's more, TX Text Control 12.0 is now fully Visual Studio 2005 Beta 2 (codename Whidbey) ready. Learn more about how TX Text Control achieves this, what this means for you and the benefits of the new programming environment.
Find out More About TX Text Control 12.0
If you would like to learn more about the new version, please take a look at the following:
My co-workers and I would be delighted to talk to you about the new version of TX Text Control. We are here to offer you assistance and advice in all matters.
Please do not hesitate to contact us.