What a remarkable year 2014! It is not easy to choose specific highlights as we had so many. Our conference team traveled a lot including Norway, Great Britain, Germany and the United States. We presented new versions, new products, and had a lot of fun talking to existing and new users.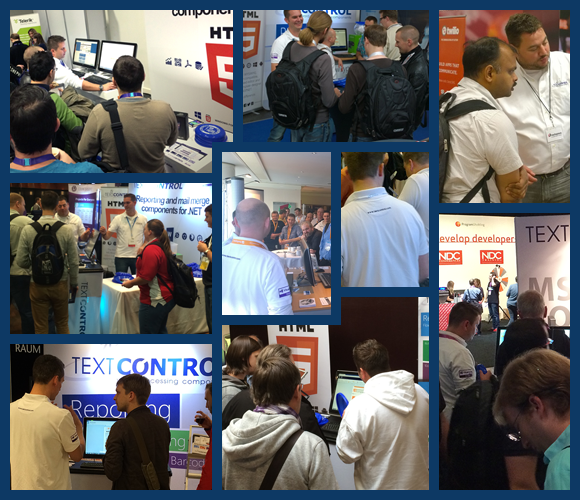 It is always highly motivating to see developers around the globe using our products in all market verticals and company sizes from small businesses to Fortune 500 corporations. We are very proud of every single user.
And we saw a significant growth in the number of users this year and our customer renewal rate is higher than ever - a huge success.
New Products: HTML5-based Rich Text Editor
This year, we released the first version of our HTML5-based web editor and reporting template designer for ASP.NET WebForms and MVC. The first true WYSIWYG, rich text editor gives users an MS Word compatible editor to create powerful reporting templates anywhere - in any HTML5-based browser including Google Chrome, Firefox, Safari and Internet Explorer.
This unique technology solves the problem of editing MS Word documents in a browser without any plug-ins or security settings. We released version X11 in September and the ASP.NET editor has been already successfully deployed to production servers in many customer projects.
Additionally, we introduced the language detection engine - a new feature of our spell checking product TX Spell .NET. Language scopes from a given string or complete document for more than 30 languages can be detected. The algorithm supports nested scopes such as bracketed text or bi-directional text in various, mixed languages. Based on the detected languages, proper dictionaries can be added to the dictionary collection or appropriate hyphenation lists can be loaded.
Text Control Consulting and Training Services
To meet the expectations of our fast growing enterprise customer base, we introduced the Text Control Consulting and Training Services. High-quality products and the commitment to meet specific service levels provides enterprises a required security of investment.
Text Control offers industry-leading support services as part of all subscription licenses including phone, e-mail, forums and live chat technical support.
We understand that sometimes your projects will require support beyond even those high level services. Our consulting experts can provide training and mentoring, migration assistance and more.
New Unique Improvements and Features in 2015
We are already working on the next release with stunning new features for the HTML5 editor:
Client clipboard: Copy and paste content from the client
Drag and drop of client content (files and formatted text)
Localization
New Office 2013 ribbon style and icons
Collapsable and scrollable ribbon
Fully featured spell check dialog
Direct printing support
Programmable Selection object
ASP.NET and reporting is growing fast for us and we have so many plans, ideas and strategies to help developers to integrate powerful and easy-to-use word processing features.
Windows Applications: New WPF Rendering Engine
But at the same time, we don't forget our Windows Client Application developers. In the next release, we will provide a WPF component with a new, native WPF rendering engine. The WPF Airspace issue will be finally eliminated. All Windows Client versions are getting a facelift with new icons, context menu and ribbon style.
We have been developing software components for word and document processing for more than 20 years. We are continually looking for new and innovative ways to improve the process of report generation and document processing.
In 2015, we will continue to provide new innovative products, ideas and exceptional customer service.
Thanks to all customers, partners and members of the Text Control family for a fantastic year 2014!