Installing the Samples
ASP User's Guide > Simple Sample Programs
To run the installed sample code, you have to set up a virtual directory in your Internet Information Server. To do so, perform the following steps:
Start the Internet Information Server Administration Tool. The location of this tool depends on the operating system.
Select Default Web Site in the left tree view and then the Action/New/ Virtual Directory... menu item. This will start a wizard.
On the first page, Virtual Directory Alias, specify tx as an alias name and press the Next button.
On the second page, Web Site Content Directory, select the Samples\Asp subdirectory found in your TX Text Control installation path. Press the Next button.
On the third page, Virtual Directory Access Permissions, enable Write permission for the virtual directory and press Finish.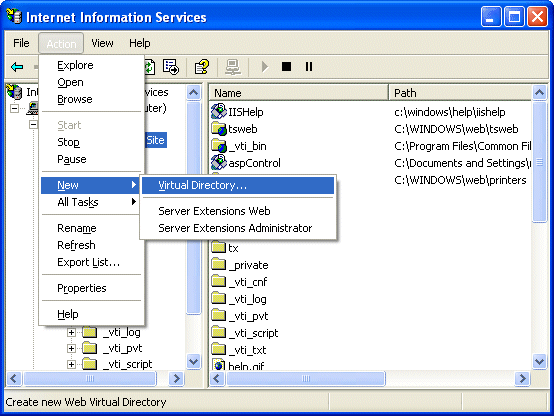 Now you can test the installation by opening your browser and browsing to http://<your_machine_ip>/tx, where <your_machine_ip> is the IP address or host name of your server. The index page index.htm located in the Samples\Asp subdirectory is shown.